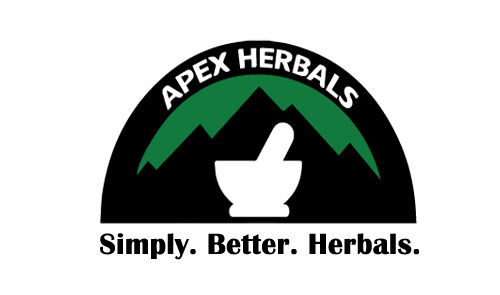 Disclaimers Used on www.apexherbals.com to be Aware Of:
FDA Disclaimer
The statements made regarding these products on this website have not been evaluated by the Food and Drug Administration. The efficacy of these products has not been confirmed by FDA-approved research. These products are not intended to diagnose, treat, cure or prevent any disease. All information presented here is not meant as a substitute for or alternative to information from healthcare practitioners. Please consult your healthcare professional about potential interactions or other possible complications before using any product. The Federal Food, Drug, and Cosmetic Act requires this notice.
General Blog/Information Disclaimer
If you require any more information or have any questions about our site's disclaimer, please feel free to contact us by email at [email protected]. Our Disclaimer was generated with the help of the https://www.disclaimergenerator.net Disclaimer Generator.
All the information on this website – https://apexherbals.com – is published in good faith and for general information purpose only. Apex Herbals does not make any warranties about the completeness, reliability and accuracy of this information. Any action you take upon the information you find on this website (Apex Herbals), is strictly at your own risk. Apex Herbals will not be liable for any losses and/or damages in connection with the use of our website.
From our website, you can visit other websites by following hyperlinks to such external sites. While we strive to provide only quality links to useful and ethical websites, we have no control over the content and nature of these sites. These links to other websites do not imply a recommendation for all the content found on these sites. Site owners and content may change without notice and may occur before we have the opportunity to remove a link which may have gone 'bad'.
Please be also aware that when you leave our website, other sites may have different privacy policies and terms which are beyond our control. Please be sure to check the Privacy Policies of these sites as well as their "Terms of Service" before engaging in any business or uploading any information. Our Privacy Policy was created by https://www.generateprivacypolicy.com/ the Privacy Policy Generator.
General Health and Wellness Disclaimer for Apex Herbals, LLC.
Many customers have already experienced and purchased herbal remedies and CBD from hemp products and their positive effect on their health. We hope that utilizing our website, free CBD consultation, blog articles, and products for sale that you will gain knowledge to take control and responsibility of your own well-being and overall health. However, please note that due to legal laws and time restraints , our staff cannot provide you with personal health advice, diagnose, treat, prescribe etc. as we are not medical professionals and will not conduct business as such.
The free CBD consultation with our in-house certified CBD consultants is not a medical consultation with a licensed medical physician. The free CBD non-medical consultation is with an experienced, trained, and certified consultant on the history, quality concerns, CBD products, and uses of CBD for various health conditions to better provide sales data for customers during the sales process. Any "recommendations" provided in said consultation (email only at this time) provided are not to be construed as medical advice, but merely for educational and/or informational purposes only. As above all else, we at Apex Herbals value your health. If you have any medical condition, are pregnant, nursing, or are concerned about implementing CBD and/or herbal therapies into your daily regimen, please consult with a doctor before beginning any CBD hemp or herbal products.
Website users are invited to discuss health-related topics in the public blog or blog posts and to provide their own insights and experiences. However, the comments of website users are subjective and do not represent the views of Apex Herbals. No forum post or website comment should be considered health advice. You (the purchaser/user) are responsible for consulting a medical professional before trying any new herb or remedy mentioned in the website or any related forum or blog post.
The content on our website and in our online blog discussions is for educational/informational purposes only. Although we try our utmost to provide useful and accurate information, you are responsible to research and verify information before relying on it. We are trained herbal and CBD consultants, and are not licensed or registered healthcare practitioners. We cannot (and will not) diagnose health conditions, nor prescribe medicines legally; we are not medical doctors. However, we will recommend or suggest medicinal herbs for various health complaints (through free CBD consultation or through contact form), as we believe in the safety and efficacy of botanical and herbal medicine if customer has a general question about said products. Above all, if you have any concern during any process, please contact a licensed medical professional before purchasing from us or any herbal provider.
The information we provide is not intended to be a substitute for medical treatment. Please consult your medical care provider before using herbal medicine, particularly if you have a known medical condition or if you are pregnant or nursing.
You are responsible for your own health. As with conventional medicine, herbal medicine is vast and complex, and must be used responsibly. Every "body" and "person" is different. People react differently to different remedies. Some herbs are contraindicated with certain pharmaceutical drugs. Further, some helpful herbs may be confused with harmful and/or deadly substances. Research any herbs or CBD products irregardless of any "recommendations" made on this or any site.
Please be advised that Apex Herbals, LLC (https://apexherbals.com) does not conduct free CBD and/or herbal consultations with any minor or individual that is under the age of eighteen (18). Before any initial consultation, the user's birthday and name via contact form will be recorded for legal purposes along with the consultation. In the event that you are not of legal age upon contact form submission, no consultation will be performed, and it is recommended that a parent and/or legal guardian proceed with said minor to a licensed medical professional for further evaluation and advice if deemed appropriate. Apex Herbals cannot predict how a remedy will work for you. Always refer to your medical care provider for questions about your health.
Consent
By using our website, you hereby consent to our disclaimer and agree to its terms.
Update
Should we update, amend or make any changes to this document, those changes will be prominently posted here.
Terms and Conditions Disclaimer
Please read these Terms of Use ("Terms", "Terms of Use") carefully before using the https://apexherbals.com website (the "Service") operated by Apex Herbals ("us", "we", or "our").
Your access to and use of the Service is conditioned on your acceptance of and compliance with these Terms. These Terms apply to all visitors, users and others who access or use the Service.
By accessing or using the Service you agree to be bound by these Terms. If you disagree with any part of the terms then you may not access the Service.
Accounts
When you create an account with us, you must provide us information that is accurate, complete, and current at all times. Failure to do so constitutes a breach of the Terms, which may result in immediate termination of your account on our Service.
You are responsible for safeguarding the password that you use to access the Service and for any activities or actions under your password, whether your password is with our Service or a third-party service.
You agree not to disclose your password to any third party. You must notify us immediately upon becoming aware of any breach of security or unauthorized use of your account.
Intellectual Property
The Service and its original content, features and functionality are and will remain the exclusive property of Apex Herbals and its licensors.
Links To Other Web Sites
Our Service may contain links to third-party web sites or services that are not owned or controlled by Apex Herbals.
Apex Herbals has no control over, and assumes no responsibility for, the content, privacy policies, or practices of any third party web sites or services. You further acknowledge and agree that Apex Herbals shall not be responsible or liable, directly or indirectly, for any damage or loss caused or alleged to be caused by or in connection with use of or reliance on any such content, goods or services available on or through any such web sites or services.
We strongly advise you to read the terms and conditions and privacy policies of any third-party web sites or services that you visit.
Termination
We may terminate or suspend access to our Service immediately, without prior notice or liability, for any reason whatsoever, including without limitation if you breach the Terms.
All provisions of the Terms which by their nature should survive termination shall survive termination, including, without limitation, ownership provisions, warranty disclaimers, indemnity and limitations of liability.
We may terminate or suspend your account immediately, without prior notice or liability, for any reason whatsoever, including without limitation if you breach the Terms.
Upon termination, your right to use the Service will immediately cease. If you wish to terminate your account, you may simply discontinue using the Service.
All provisions of the Terms which by their nature should survive termination shall survive termination, including, without limitation, ownership provisions, warranty disclaimers, indemnity and limitations of liability.
Disclaimer
Your use of the Service is at your sole risk. The Service is provided on an "AS IS" and "AS AVAILABLE" basis. The Service is provided without warranties of any kind, whether express or implied, including, but not limited to, implied warranties of merchantability, fitness for a particular purpose, non-infringement or course of performance.
Governing Law
These Terms shall be governed and construed in accordance with the laws of United States without regard to its conflict of law provisions.
Our failure to enforce any right or provision of these Terms will not be considered a waiver of those rights. If any provision of these Terms is held to be invalid or unenforceable by a court, the remaining provisions of these Terms will remain in effect. These Terms constitute the entire agreement between us regarding our Service, and supersede and replace any prior agreements we might have between us regarding the Service.
Changes
We reserve the right, at our sole discretion, to modify or replace these Terms at any time. If a revision is material we will try to provide at least 30 days notice prior to any new terms taking effect. What constitutes a material change will be determined at our sole discretion.
By continuing to access or use our Service after those revisions become effective, you agree to be bound by the revised terms. If you do not agree to the new terms, please stop using the Service.
Contact Us
If you have any questions about these Terms, please contact us.
Privacy Policy
Last updated: December 8, 2020
Apex Herbals ("us", "we", or "our") operates the Apex Herbals website (the "Service").
This page informs you of our policies regarding the collection, use and disclosure of Personal Information when you use our Service.
We will not use or share your information with anyone except as described in this Privacy Policy.
We use your Personal Information for providing and improving the Service. By using the Service, you agree to the collection and use of information in accordance with this policy. Unless otherwise defined in this Privacy Policy, terms used in this Privacy Policy have the same meanings as in our Terms and Conditions, accessible at https://apexherbals.com
Information Collection And Use
While using our Service, we may ask you to provide us with certain personally identifiable information that can be used to contact or identify you. Personally identifiable information ("Personal Information") may include, but is not limited to:
Name
Email address
Telephone number
Address
Log Data
We collect information that your browser sends whenever you visit our Service ("Log Data"). This Log Data may include information such as your computer's Internet Protocol ("IP") address, browser type, browser version, the pages of our Service that you visit, the time and date of your visit, the time spent on those pages and other statistics.
Cookies
Cookies are files with small amount of data, which may include an anonymous unique identifier. Cookies are sent to your browser from a web site and stored on your computer's hard drive.
We use "cookies" to collect information. You can instruct your browser to refuse all cookies or to indicate when a cookie is being sent. However, if you do not accept cookies, you may not be able to use some portions of our Service.
Service Providers
We may employ third party companies and individuals to facilitate our Service, to provide the Service on our behalf, to perform Service-related services or to assist us in analyzing how our Service is used.
These third parties have access to your Personal Information only to perform these tasks on our behalf and are obligated not to disclose or use it for any other purpose.
Security
The security of your Personal Information is important to us, but remember that no method of transmission over the Internet, or method of electronic storage is 100% secure. While we strive to use commercially acceptable means to protect your Personal Information, we cannot guarantee its absolute security.
Links To Other Sites
Our Service may contain links to other sites that are not operated by us. If you click on a third party link, you will be directed to that third party's site. We strongly advise you to review the Privacy Policy of every site you visit.
We have no control over, and assume no responsibility for the content, privacy policies or practices of any third party sites or services.
Children's Privacy
Our Service does not address anyone under the age of 18 ("Children").
We do not knowingly collect personally identifiable information from children under 18. If you are a parent or guardian and you are aware that your child has provided us with Personal Information, please contact us. If we discover that a child under 18 has provided us with Personal Information, we will delete such information from our servers immediately.
Compliance With Laws
We will disclose your Personal Information where required to do so by law or subpoena.
Changes To This Privacy Policy
We may update our Privacy Policy from time to time. We will notify you of any changes by posting the new Privacy Policy on this page.
You are advised to review this Privacy Policy periodically for any changes. Changes to this Privacy Policy are effective when they are posted on this page.
Contact Us
If you have any questions about this Privacy Policy, please contact us.